An experienced chartered accountancy with a proactive and personal approach
We offer a wide range of accountancy and advisory services tailored to your individual needs, and we specialise in providing advice to small, medium-sized and fledgling companies and businesses.
WHY CHOOSE
CHORUS ACCOUNTING?
We pride ourselves on our proactive and personal approach, to provide you a service that is tailored to your individual needs.
BUSINESS ACCOUNTING
SERVICES
Our experienced team of experts can prepare accounts for all types of business, from sole traders to partnerships and limited companies.
Whether you need assistance with your self assessment tax returns or advice on inheritance tax planning, we can help you.
OUR DIGITAL PARTNERS
Accounting software you can count on!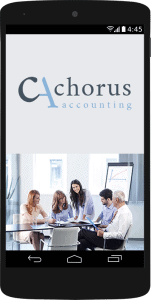 This powerful new free finance & tax App has been developed by the team at Chorus Accounting to give you key financial and tax information, tools, features and news 24/7.
It includes features like GPS Mileage Tracker, Receipt and Expense Management, an Income Tracker ... PLUS 17 great other tax, VAT and financial calculators.
Enjoy the Chorus Accounting App with our compliments!


Making Tax Digital is a key part of the government's plans to make it easier for individuals and businesses to get their tax right and keep on top of their affairs.
HMRC's ambition is to become one of the most digitally advanced tax administrations in the world. Making Tax Digital is making fundamental changes to the way the tax system works – transforming tax administration so that it is:
more effective
more efficient
easier for taxpayers to get their tax right
Nite Watches
Martin Cavey and Chorus Accounting have acted for me across all financial aspects of my business for the past 6 years. Their service and delivery have been nothing short of excellent and I would not hesitate to recommend them to anyone.
Roger Green
Accounts and payroll
Chorus Accounting are a professional friendly company and go above and beyond to help out their customers. The team are great we would never go anywhere else.
Chris
Consumate professionals
Chorus Accounting should be the first port of call for any business in Dorset. Whether your business is start up, small, medium or large your accounting requirements will be provided for. The team are consummate professionals, warm, friendly and capable with an excellent knowledge of how to assist you. Payroll, VAT, NI , Corporation Tax are all made pain free with Chorus! I heartily recommend them.
Katrina
Friendly and helpful
Friendly helpful and happy to explain the obvious. Great support on the use of Xero.
Nathan
Excellent service
Martin is amazing, always solves any problems promptly either in person or over the phone . Always contactable.
Anonymous
Responsive, timely and accurate
It seems that nothing is too much trouble for the Chorus Accounting team. They are quick in responding to and understanding our business's financial needs and they get on with it, regardless of what it takes, to help us, the client. The records they produce are detailed, accurate and compliant and when you combine all of these with their offer of "sound business advice" you have the complete package. Highly recommended.
Retell C
Reliable and personable
Seafresh S